Morning Sprite Vitality Berry Smoothie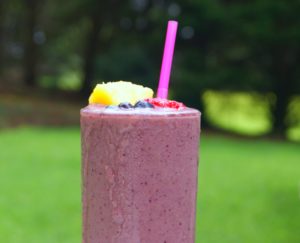 A Smoothie that Packs a Punch
Need a little extra boost in the morning? Having a difficult time getting motivated to leave the house? I know exactly how you feel. I use to feel the same way, that is, before I started juicing and making smoothies. Fruit smoothies have changed my life and they can change yours as well.
Morning Sprite Vitality Fruit Smoothie
Why? They add vitality and vigor to your morning and energy for your day. Loaded with vitamins and nutrients and pack with superfoods to give you a kickstart. The reasons are endless.
So, why morning sprite as a name. Well, the Morning Sprite Vitality fruit smoothie is named for the life and energy it gives you. It's one of my favorite smoothies for breakfast. It allows you to focus and feel envigorated all day long. A fruit smoothie loaded with tons of health benefits to get you through the midday slumps.
Benefits for your Health
Blueberries
Blueberries and Raspberries are rich in vitamin C and loaded with fiber. These fruits are known for helping your body fend off free radicals that are shown to cause cancer and inflammation in the joints.
Blueberries deliver high levels of vitamin c, k, b, potassium, and manganese. Blueberries offer anti-aging benefits due to it's resveratrol. That's an extra bonus.
Pineapples
Pineapples are amazing. For years I just thought it was as a super sweet fruit used in punches. It never occurred to me that it could be a superfood.  Turns out it is. Pineapples possess some powerful nutrients and vitamins like vitamin C, B1, potassium, manganese, and phytonutrients.
They are high in vitamin C which helps in the production of collagen. Collagen helps maintain elasticity in skin and joints. There are also studies to suggest that pineapple can relieve arthritis and help to prevent cancer. That information alone make it a superfood in my book.
Bananas & Spinach
Bananas were another fruit that I dismissed as just another sweet treat. But boy, was I shocked to learn that bananas are more than just vegan ice cream or bread. They provide overall body health with major vitamins like B6, potassium, calcium, iron, magnesium, iron, folate, niacin, and riboflavin.
I've added them to this smoothie for the high fiber, ease of digesting and brain-boosting ability.
Spinach is the leafy green angel of health. It's great for skin, hair, cancer prevention, heart health and the list goes on. I've added spinach for two reasons immunity and cell health. The two things that really add vitality to your life.
As a side note. I like to add a probiotic, protein, or nutrient-rich powder drink to give my smoothie an extra nutritional kick. I have several that I love because of how they boost your energy and health but my fav is Orgain. Especially for this smoothie.
I prefer Organic Superfoods Powder Berry. for how well it blends with the taste and texture of this smoothie. Also because it adds 50 different superfoods to my one drink. That's a mega ramp up in the health department.
You can usually get it for less than $15 dollars and it's worth it. It has 50 different super grasses and superfoods. There's something for every part of your body.
Show me some love! Share, like, and follow me for more healthy smoothies that will change your life for the better.
Blend all ingredients together in a blender until smooth.
I buy all my fruit fresh and then freeze right after washing. Freezing and blending the smoothie gives a better taste to the smoothie. Adding ice can sometimes water down the taste. If you prefer fresh fruit just add a cup of ice and more liquid, adjusting as you blend. You may also add probiotic, protein, or nutrient-rich powders to give your smoothie an extra nutritional bang.